Recruiting, training, motivating and retaining talents is essential for a business, contributing to their success, stagnation and even failure. During the talk at FrenchFounders Business & Drinks, Léo Denes, Founder & CEO of Australiance shared some tips and information to optimize recruitment in Australia such as:
4 key facts about Australian work environment
1. Low unemployment rate
As of March 2021, Australia's unemployment rate remains steady at 5.6  per cent amongst developed countries. For hiring companies, it means that you are in a competitive environment to find good talents and you need to go quick to secure the right candidates.  
2. Permanent VISA VS Temporary visa
VISA in Australia is definitely a key challenge for both international workers and companies. It can be a struggle for most non-Australian talents to have full working rights in the country and it takes time to finally settle down. As COVID-19 has been causing major disruptions, increasing difficulties are faced by non-citizen and non-resident employees who are stranded overseas due to border closures and travel restrictions.
If you need any tips, feel free to have a look at our complete visas guide here or contact our immigration agent for visa solutions.
3. Top highest minimum wage in the world
Australia's salaries are pretty high compared to Europe, the United States and the rest of the world. As of 2021, Australia has a minimum wage of AUD 19.48 per hour. In 2019, the country overtook Luxembourg as having the highest minimum wage in the world, reported by OECD.
For companies wanting to grow in Australia, they need to be prepared and provide a good salary to their employees. It is key to benchmark your remuneration package and budget before looking to hire new talent but also to retain your staff. Australiance Talent can help you ensure the remuneration you will provide to your staff in Australia is on par with the market. Contact us now to discuss.
4. A culture of Work-life balance
Professionals are prioritising a work-life balance over a higher pay rate. Also, 71 per cent of Australian workers consider the workplace environment to be one of the most critical non-remunerative factors when considering a job (according to Robert Half's survey in 2020). Hiring managers need to uncover what work-life balance means to each of their staff because everyone's lifestyle is different. At a time where world borders are closed, companies in Australia are competing for a limited talent pool. Hence, a positive workplace culture where work-life balance is promoted is increasingly viewed as essentials by employees
Our top 3 tips to recruit in Australia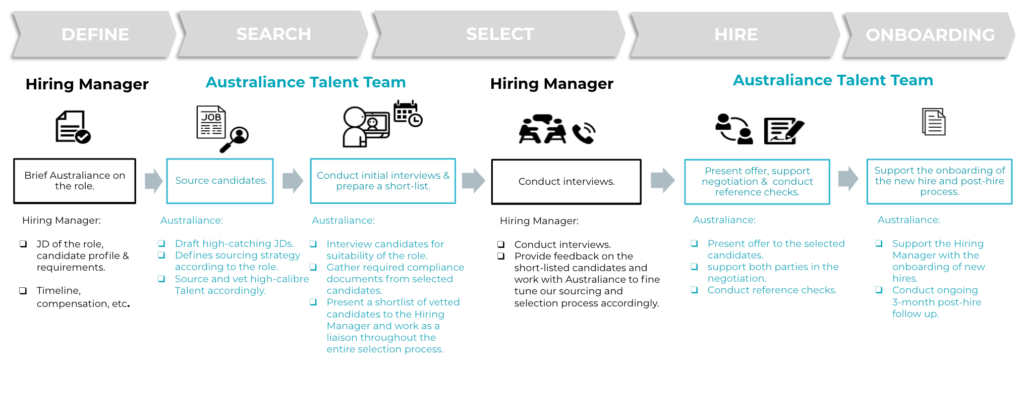 1. Having a robust recruitment process
Before you even think about starting to draft a job description and post your ad, the first step in any recruitment process is to figure out what exactly you need. What does the ideal candidate look like? Which candidate skills and qualities are a must? But also think why the opportunity you offer is unique, i.e what the candidate would gain by joining your company. It is important to understand the end to end process with various internal stakeholders and also have a plan to on board, train and RETAIN your best talent. A lot of time and money can be wasted by a company in the recruitment process… and even after, if your candidate does not perform or leaves the company. Having an external recruitment partner can help you avoid these pitfalls and secure talents you would not have found by publishing an ad on Seek or other job seekers platforms.
Since 2016, Australiance has been assisting 20+ Australian and international organisations to find ideal candidates in Australia and has developed a robust recruitment process to find, secure and on board the best talent for our clients.
Please get in touch with our Talent Acquisition team to see how we can help your business secure the best talent.
2. Always show your corporate culture
Immerse your shortlisted candidates inside your working environment as soon as possible in the recruitment process. You need to show the workplace, the labor practices, the team.. In one word : be transparent. This is the opportunity for them to know straight away what you are ready to offer them and avoid bad surprises after a few days working in your company.
3. Performance-based incentives
A strategy to retain and attract top talents is to introduce and implement a performance-based bonus / variable in addition to the base remuneration to ensure the best contributors can be paid above market standards and have a remuneration in line with their overall contribution. Giving your employees bonuses according to the company and individual performance drive them to work harder and achieve their goals. The prospect of a promotion drives a more engaged, invested and committed team caring about doing a good job and increasing benefits for the company.
About Léo Denes:
Australiance Founder with over 16 years of business experience including 12 years in Australia, Leo is a strongly committed and client-focused Management Consultant and Entrepreneur. Through Australiance Consulting & Talent Acquisition services, Leo leverages his experience and network to assist international businesses and professionals succeed in Australia. In Australia since 2007, Leo has over 16 years of business experience including Strategy, Business Development, People Management, Business Process Improvement, Procurement and Financial Audit. For more information about Australiance Founder, check out Leo's
past interviews
for various international newspapers or
Linkedin Profile