Expansion of transnational companies, migration patterns and technological advantages are driving the shift of the global workforce. The increasingly global expansion of organisations comes with a host of challenges in building and managing a cohesive workforce spanning more than one country or region. More challenges are posed as the Covid-19 pandemic has forced companies to adopt remote work. As a result, leaders may struggle to manage in a borderless world where talent acquisition and managing is done remotely. They must answer the key questions: What is the process of seeking out talents remotely? How to grow a global workforce with speed? How to keep remote workers happy, engaged and productive?
Fortunately, there are specific and effective approaches that leaders can take to tackle such problems, which were shared at "Startup & Angels webinar: Startup Growth Hack – Go Where the Talent is!", featuring speakers from Globalization Partners, Envirosuite and NONA. Charles Ferguson, General Manager (APAC) at Globalization Partners, with experience in removing barriers to global businesses, provided insights on remote recruitment: "CEOs, startup founders, and HR practitioners should be creative than ever to explore new models that expedite the speed and agility which are the key to success in market expansion and talent acquisition".
The speakers all agreed on the importance of investing in the process of onboarding and interviewing talents. Companies should look into their values and cultures to define a set of characteristics (rather than competency) of potential candidates that match. As work from home is no longer a competitive advantage, it is recommended to answer the question: What is amazing about you to attract talents?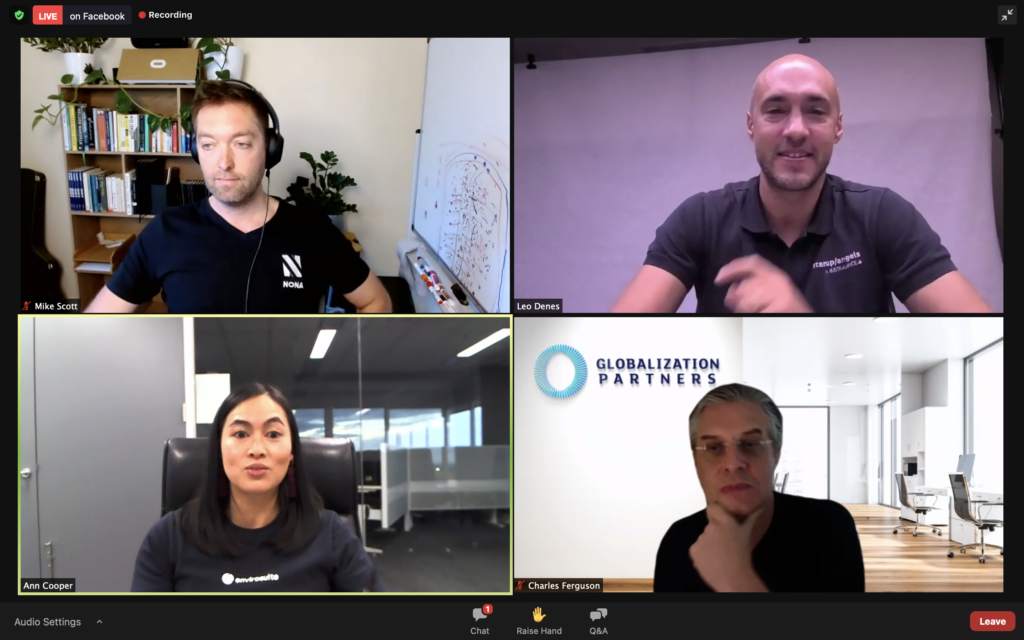 Charles also pointed out two common approaches that leaders can take before expanding the market. Startup founders must not neglect to perform due diligence and investigate the landscape on a proper level. "Taxes, employee benefits, legal structures – all of these can set you back and bring your business down if they are not done thoroughly." Therefore, leaders should test out the market by outsourcing a business development or market entry company, or partner with an employer of record to get helped with local employment that ensures compliance in new markets ( ie. Australiance and Globalization Partners).
Approaches on how to best engage with talents regardless of geographies and cultures were also discussed. Ann Cooper, Global Marketing Director at Envirosuite, shared her stories of overcoming challenges during the merger of two companies under Covid-19 pandemic. "I went through a lot of challenges in integrating two companies remotely. We indeed had different thinking approaches towards remote working, but we had to ensure everyone would feel connected and engaged in the common goals, as well as towards the uncertain time." Ann suggested leaders should focus on implementing the recruitment and onboarding process in an effective and engaging way, building a culture where people are connected and feel like a part of the company no matter where they are. "Always think ahead, plan out and most importantly, put empathy at the top, then you will make a big difference", said Ann.
Keeping constant communication to increase visibility, transparency and accessibility is also a key lesson shared by Mike Scott, CEO and Co-Founder at NONA. At his company, technology platforms are leveraged to help facilitate communication and create employee touchpoints. "When it comes to remote work, it's crucial to manage team members' mental and physical health. We create Slack channels where online fitness competition is kicked off and personal sharing is encouraged. Though none of these could replace the magic of face-to-face interaction and handshakes in office, the least thing can be done is to get people in the same place where human connection exists."
A side note of encouragement to leaders facing challenges in remote talent management: take up the challenge with a sense of empathy and people-centricity. Let us know if you need any support in scaling up your business or managing your remote employees!
"Startup & Angels webinar: Startup Growth Hack – Go Where the Talent is!" is co-organised by Australiance and Globalization Partners. For more good insights from similar events, stay in touch with us on Startup & Angels to join our upcoming events.