Australia's Economic Climate and Key Industry Trends
The COVID-19 pandemic has impacted every country differently, and few have managed to remain economically sound from its onset to present time.  Australia is, however, one of the few countries that has maintained its economic situation in light of the challenges presented by the Covid-19. We present some key takeaways from the Emlyon Business School's Employability World Tour webinar, with detailed insight on Australia's economic situation and industry trends. This advice from our Founder, Leo Denes, and our Director of Australiance Talent, Pooja Nair, will help you make an informed decision when expanding your business into Australia!
Emlyon Business School Employability World Tour Webinar
The Dynamism of the Australian Economy
Australia has one of the most dynamic economies in the world with more than 30 years of economic growth before the Covid-19 pandemic. The population's growth is a testament to their thriving economy. Australia is home to over 26 million people and is set to grow by 23% by the year 2027. In light of this, there is a strong multicultural presence and international population, where 1 in 3 Australians were not born in Australia. The country has a digital friendly market and has room for upscaling technology companies to penetrate the market successfully. As such, the minimum and average salaries reflect the strength of the Australian economy, with the minimum salary of $772.60 (AUD) per week for a 38 hour week, or $20.33 per hour with an average salary of $1,800 per week.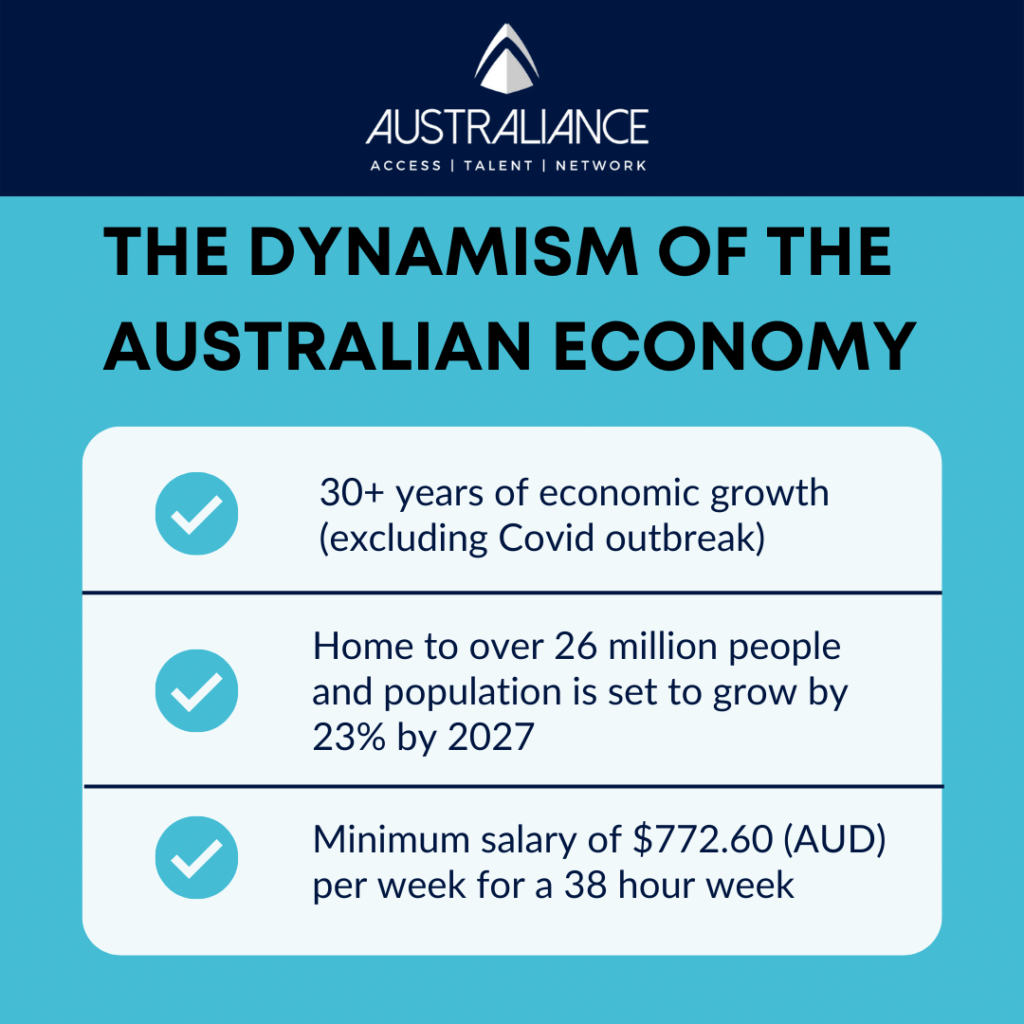 Australia's Shift to a Service and Software Economy
Australia has shifted away from purely resource-led exports to a service and software economy. As of 2022, the top 5 Australian industries in terms of revenue generation are Mining, Finance & Insurance, Technology, Healthcare and Construction. This shift, especially post Covid-19, portrays the continued growth and development of the technology sector. We have seen this through the rise of Australian software companies such as Atlassian, Canva, SafetyCulture, AfterPay and AirWallex. The technology sector now occupies 8.5% of Australian Gross Domestic Product with a projected growth of 80% in 5 years' time.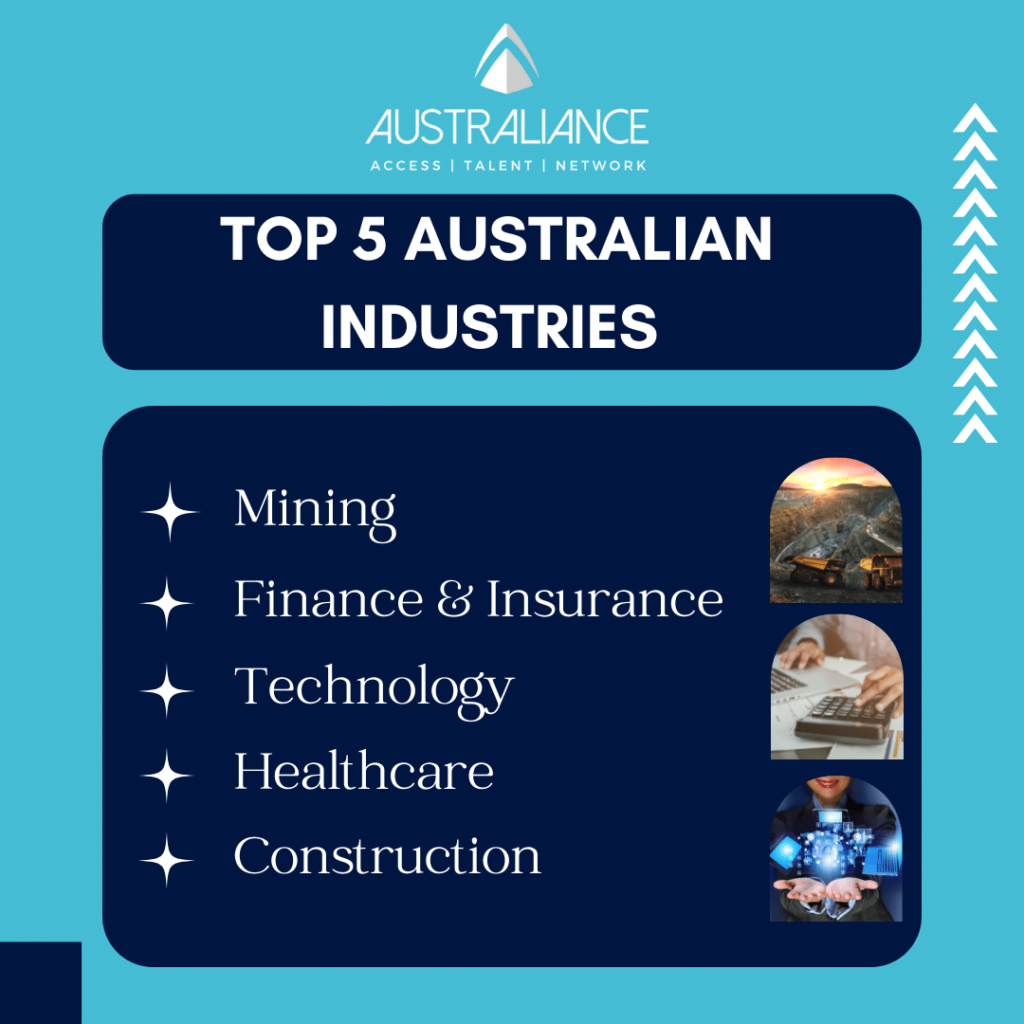 The Talent Shortage and Valued Immigrants
The impact of Covid-19 on Australia has produced a real talent shortage across all industries, this is especially so during the mandatory closing of international borders for 2 years due to Covid-19 restrictions. Even so, Australia's economy has persevered through the challenges that the pandemic has presented, a factor of this is the decrease of the unemployment rate to 4% in March 2022 in comparison to an unemployment rate of 5.6% the year prior in March 2021. Job security in Australia is very secure and even more so when potential employees have valued and transferable skill sets. To this effect, Australia employs a selective immigration system that targets experienced professionals; the more experienced and sought after your skillset the easier it is to immigrate. This is why many people from software and technology backgrounds have found a home in Australia.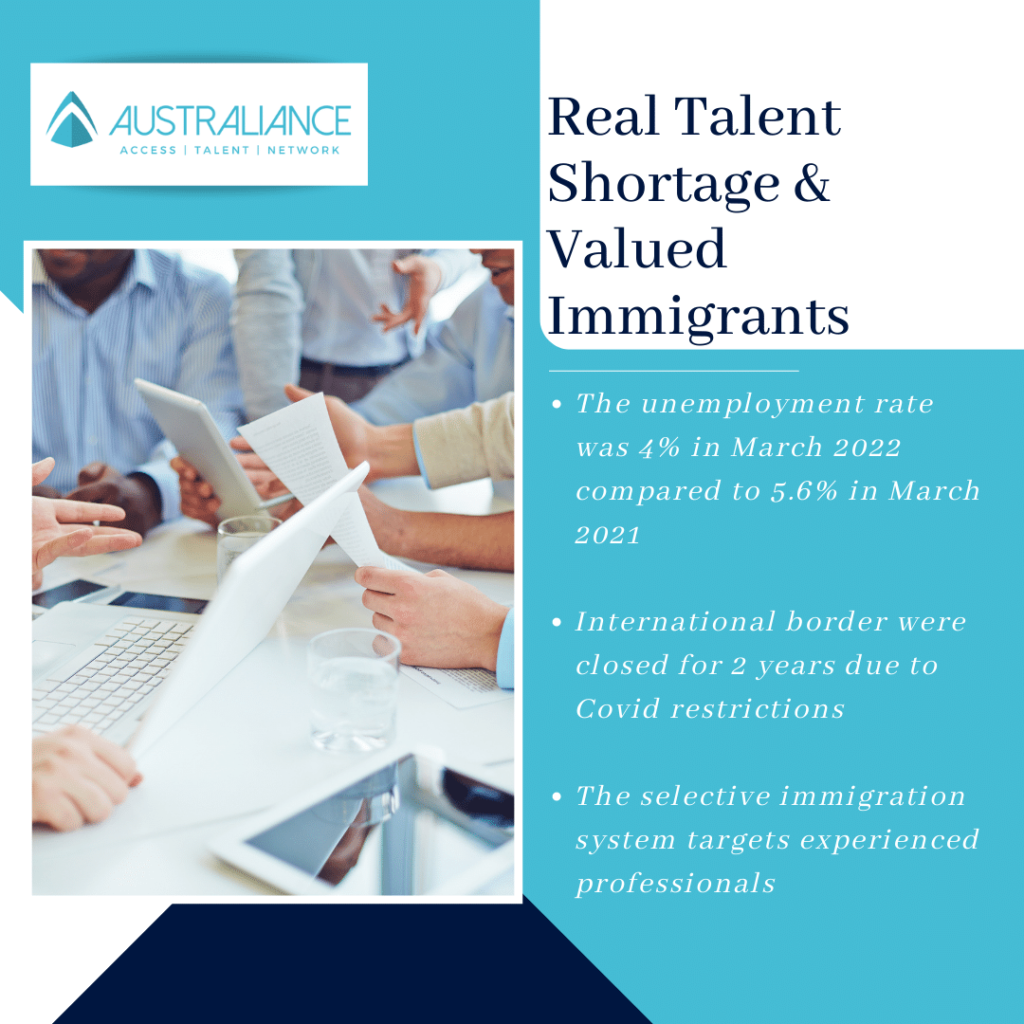 The main concern in any new country is the cost of living. Fortunately, depending on which industry you decide to work in, the cost of living in most cities is affordable at 20k per person or 50k per family on average. It is good to note that Sydney is the most expensive city to live in Australia, with Melbourne coming in second, and ranked the 15th most expensive city to live in worldwide.
Having difficulties finding the right job to kick start your career? Visit our Australiance Talent Job Board below!​
Click below to read more about the Emlyon Business School's Employability World Tour webinar!​